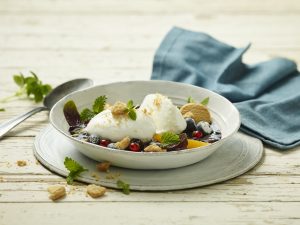 The summer has already shown its hottest side several times this year. So who doesn't like the idea of light cuisine? For
Wir in Bayern
 Christian Jürgens was inspired by Thai cuisine on 17 July. With
Hendlbrust
(chicken breast), peanuts, fine spices and green asparagus, he showed live on Bavarian television how easy it is to cook an Asian curry.
And the right form of cooling was also provided: For the ANTENNE BAYERN summer ice cream 2017 Indra got extra support from the Guten Morgen Bayern team and the only 3-star chef in Bavaria: Christian Jürgens. The result was a blue-yellow duet of blueberries and apricots – the recipe including video can be found on the Antenne Bayern website.
And even more summer desserts were created through the collaboration of Zentis and Christian Jürgens. The Schnee-Eier auf Blaubeerkaltschale (snow eggs on blueberry cold peel) are definitely an extra special type of dessert – whether for eating yourself or for pampering guests.