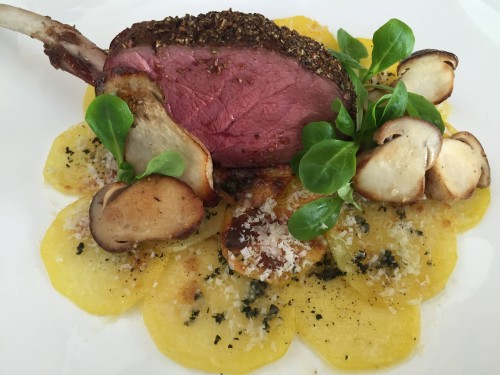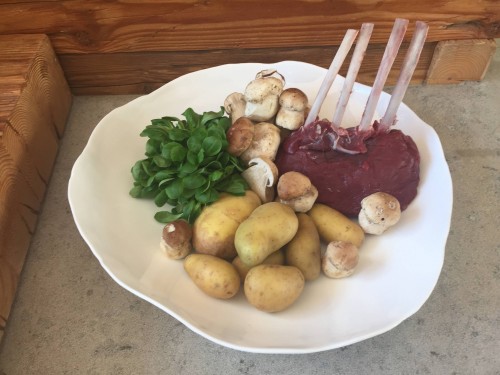 Ingredients
For the game spice
50 g coriander grains
40 g allspice
30 g juniper berries
15 g white pepper
5 g cloves
5 g bay leaves
For the deer saddle
400 g cleaned deer saddle in bone
1 tsp wild spice
Salt and freshly ground pepper
2-3 tbsp butter
For the potato carpaccio
30 g butter
1 clove of garlic peeled and pitted
1 sprig of thyme
8 large, fatty potatoes
Salt and freshly ground pepper
1 tbsp olive oil
1 tsp thyme, chopped
4 tbsp grated Parmesan cheese
Also
8 nice porcini mushrooms
1 tbsp butter
Salt and freshly ground pepper
180 g lamb's lettuce
Olive oil and vinegar for marinating
Preparation
For the game spice lightly fry the spices without fat in a coated pan. Mortar everything and store in an airtight and dark container. Before each use, mix 1:3 with freshly chopped thyme. For the saddle of venison, season the meat with game spice, salt and pepper, fry on all sides in butter and finish cooking in the oven at 110 °C for approx. 15 minutes (core temperature approx. 52 °C). Remove from oven and let rest for 10 minutes.
For the potato carpaccio, heat the butter, add the garlic and thyme twig and leave for ½ an hour. Peel the potatoes, cut into 2 mm fine slices (preferably with a slicing machine) and blanch briefly in boiling and lightly salted water. Arrange the slices in a circular form on a lightly buttered plate, brush with the liquid garlic butter and bake in the oven under the grill until golden yellow and crispy. Season with salt and pepper, add olive oil, chopped thyme and parmesan.
Clean the mushrooms, cut into slices and fry in a pan with the butter. Season with salt and pepper.
Lightly marinate the lamb's lettuce with olive oil and vinegar as well as salt and pepper.
Arrange the lamb's lettuce, sliced deer saddle and porcini mushrooms on the potato carpaccio.
Tip:
To keep the edge of the plate clean, it is best to cover it with aluminium foil (see picture).
Text source: Christian Jürgens
Image source: Christian Jürgens
Pictures from top to bottom
Cover picture: Potato carpaccio with pink roasted deer back / Source Christian Jürgens
Ingredients: Potato carpaccio with roasted deer saddle / Source Christian Jürgens
Preparation video(s): Potato carpaccio with pink roasted deer saddle / Source Christian Jürgens