Preparation
For the marinade, put the white wine with both oils, mustard, paprika powder and chilli peppers in a bowl and mix well.
Cut the lemons in half, prick several times with a fork and press a little so that they can release the juice well. Then fill the poularde with the lemons, the garlic cloves and the herbs.
Then pour the mixed marinade into the poulard, pour the rest into a small container and pour over the poultry, so that the meat is well wetted from all sides and everything is evenly marinated. (If the amount of marinade is not sufficient, you can multiply the marinade recipe accordingly.) Marinate the poularde for 24 hours covered with transparent film.
After marinating, place the chicken on a baking tray (tip: you can sprinkle it with paprika powder and a little chilli powder. The skin then becomes even more crispy and the slightly sharp-peppy taste is intensified.) Season with a little salt and fry in the preheated oven at 200°C for approx. 30 to 45 minutes; while this is going on, pour over the gravy or marinade again and again. Parsley puree is an excellent side dish.
This recipe is also particularly suitable for a barbecue in summer.
Ingredients
– 1 kitchen-ready poulard
– 1 organic lemon
– 8 cloves of garlic, unpeeled
– 1 small bouquet of thyme
– 1 small bouquet of rosemary
– 1 small bouquet of leaf parsley
– 6 fresh bay leaves
– Salt
For the marinade
– approx. ½ l white wine
– 400 ml olive oil
– 100 ml lime oil
– 2 tsp hot mustard
– 2 tbsp paprika powder, hot
– 2 tbsp paprika powder, sweet
– 5 chilli peppers, red, medium hot, chopped small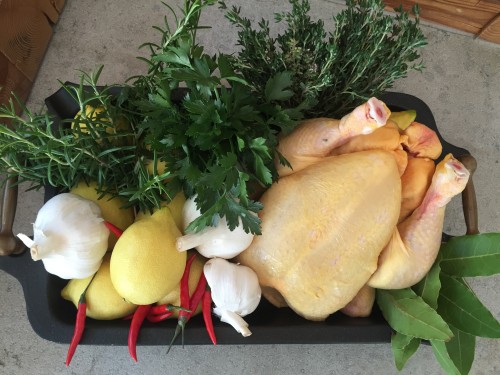 Wine recommendation
2011 Chardonnay Clos de Schulz
Winery Chat Sauvage, Rheingau approx 26.00 €
www.chat-sauvage.de
Text source: Christian Jürgens
Image source: Christian Jürgens
Pictures from top to bottom
Title and contribution picture: Marinated free-range chicken / Source Christian Jürgens
Ingredients: Marinated Outdoor Chicken / Source Christian Jürgens
Preparation Video: Marinated free-range chicken / Source Christian Jürgens