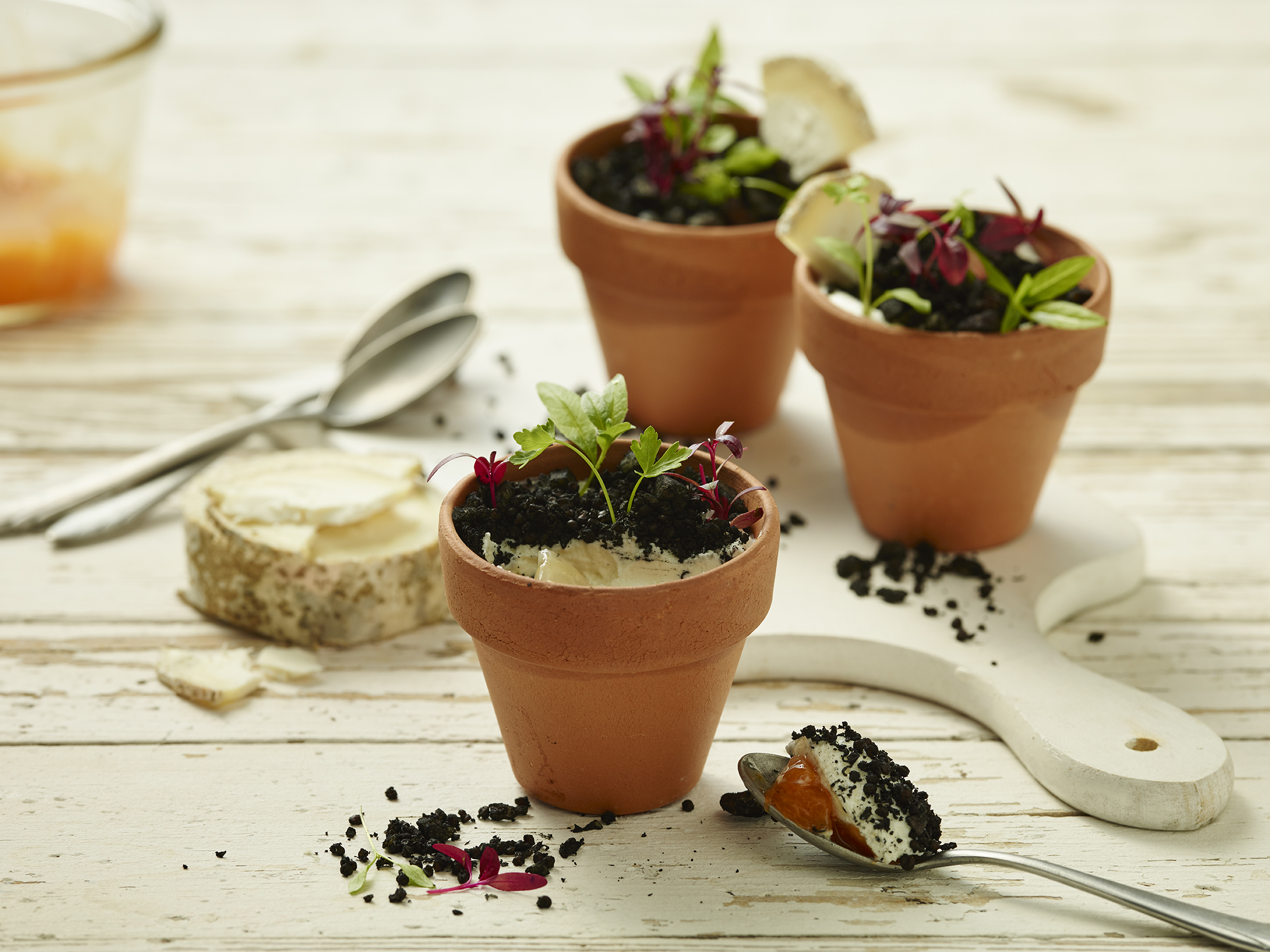 Ingredients
For the apricot and onion ragout
40 g champagne or sparkling wine
100 g white wine
2 tsp Zentis apricot jam
Some apricot vinegar
5 apricots
30 g silver onions from a glass, halved
1 tsp cornflour
For the sheep and goat cheese mass
150 g Petit Brebis (fresh sheep cheese)
75 g sheep's curd
1 pinch lemon pepper
1 lime
1 lemon
For garnishing
50 g Clacbitou (goat cheese)
Some mini basil, parsley cress and flowers of the season
For the nut soil
50 g quinoa
100 ml rapeseed oil
1 tsp olive oil
10 g hazelnuts
10 g walnuts
10 g pecans nuts
10 g macadamia nuts
1 tbsp isomalt sugar (sugar substitute, available at health food stores)
Preparation
Bring the Zentis apricot jam to the boil with champagne and white wine, add 2 apricots and simmer until soft, then strain through a sieve and collect the liquid in a small bowl. Remove the seeds from the remaining 3 apricots, skin and finely dice them.
Reduce the brew by half and thicken with a teaspoon of cornflour. It should be slightly creamy.
Let the mixture cool, add the halved silver onions and the finely chopped apricots and season to taste with the apricot vinegar.
Stir the Petit Brebis with lemon pepper, grated lime and lemon and the sheep curd until smooth and season to taste with the juice of a lemon.
Cook the quinoa in salted water for 15 minutes, drain on a sieve and then dry for 2 ½ hours in the oven at 70 ° with top and bottom heat on baking paper. Then fry in 180 °C hot rapeseed oil for 10 seconds. Grease on a kitchen paper.
Cut the hazelnuts, walnuts, pecans and macadamias roughly and caramelise them with the isomalt sugar in a coated pan. After that, add the olive oil and season with salt. Then add the quinoa. Allow the nut soil to cool and store in a tightly closed Tupperbox until consumption.
Slice the clacbitou thinly with a slicing machine or a hot knife and cut in half.
Arrange the apricot and onion ragout in a deep plate, pour the sheep's cheese mixture over it and sprinkle with the nut soil. Then garnish with the halved clacbitou slices as well as the mini basil, the parsley cress and the flowers.
Wine recommendation:
Vina Tondonai Gran Reserva, Lopez de Heredia, Rioja
Text source: Christian Jürgens | Zentis. This recipe first appeared on www.zentis.de. You will also find other recipes there that Christian Jürgens has created especially for Zentis. You can find more information about the partnership under Partners.
Image source: Christian Jürgens