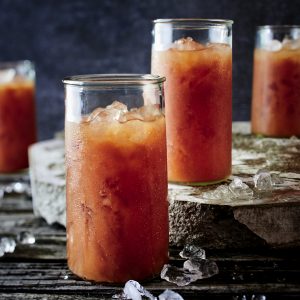 Recipe creation for the Vitamix Professional Series 750
Preparation: 20 minutes; Serves: 6 glasses (of 200 ml each)
Ingredients
– 4 untreated limes
– 80 g brown sugar
– 120 ml Cachaca (Brazilian sugar cane brandy)
– 2 cl gin
– 480 ml tomato juice
– 1 pinch salt
– Freshly ground white pepper
– 4 sprigs lemon thyme
– 1 mint leaf
– 600 g crushed ice
Preparation
Wash the limes with hot water, dry, dice and mix with the sugar for 10 seconds in the Vitamix at level 1.
Add cachaca, gin and tomato juice and season with salt, cayenne pepper and pepper.
Add four sprigs of thyme and leave to stand for about 15 minutes.
Then strain the tomato dash through a sieve.
Mix with 300 g crushed ice and a large leaf of mint for 20 sec. at level 10.
Fill six narrow, tall glasses about halfway with crushed ice and pour the tomato dash over them. Serve directly.
Nutritional information per portion (240 ml): Calories: 140, Total fat: 0 g, Saturated fatty acids: 0 g, Cholesterol: 0 mg, Sodium: 290 mg, Total carbohydrates: 21 g, Dietary fibre: 2 g, Sugar: 16 g, Protein: 1 g
This recipe was developed for the Vitamix Professional Series 750 with a 2 litre container. If you use a different Vitamix device or another container, the speed, processing time or quantities may have to be adjusted.
Text source: Christian Jürgens
Image source: Vitamix