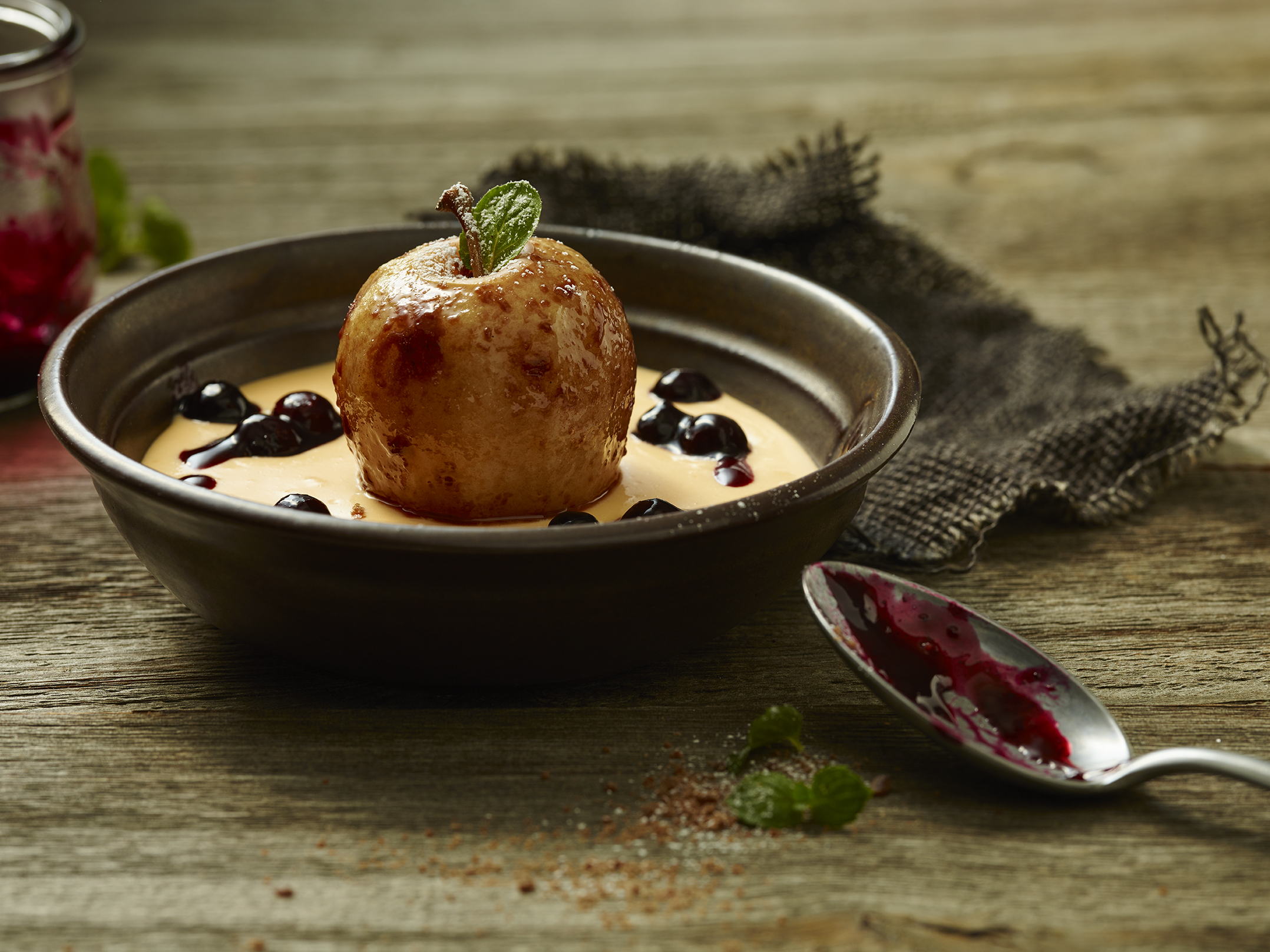 Preparation
Wash the apples, peel them and cut out the cores. Place the hollowed apples in a fireproof dish and cover with white wine, port wine and calvados. Pickle the cinnamon stick and the vanilla beans.
Heat the oven to 90 – 100°C and poach the apples for 50 to 60 minutes, until they are soft. Let everything cool down afterwards.
Mix all the ingredients together for the filling. Pour the filling into the cooled apples so that it stands out slightly at the top (slightly overfilled, so to speak).
For the almond sauce, bring milk, cream and sugar to the boil. Put the egg yolk in a bowl and stir in the hot milk-cream mixture drop by drop at first, then gradually in a thin stream. When all the liquid has been added to the egg yolk, place the bowl in a water bath and "pull off to the rose" while stirring constantly. This means that, while stirring with a wooden spoon, you slowly heat until the mixture has a creamy consistency. Do not boil. As soon as the mass remains on the spoon and circles form when blowing lightly, the mass is "pulled off to the rose".
Strain the mixture through a fine sieve and mix in the marzipan with a blender. Season with amaretto and bitter almond aroma. If available, let the mass freeze slightly in an ice cream machine so that it has a thick creamy consistency. Otherwise let it freeze in the freezer in a bowl with alternating stirring. That will work, too.
To serve, finish cooking the apples in the oven at about 190°C for 5 to 10 minutes before serving. Dust with brown cane sugar and caramelise the surfaces with a Bunsen burner.
Ingredients
For the apples
4 red fist-sized apples
1/2 l white wine
1/2 l white port wine
1/8 l Calvados
1 cinnamon stick
2 vanilla beans
For the filling
50 g marzipan
2 tbsp raisins soaked in rum
1 tbsp ground hazelnuts
1 tbsp each Calvados and brown rum
10 g honey
Core of 1 vanilla pod
1/4 tsp cinnamon powder
For the iced almond sauce
140 ml milk
60 g cream
50 g sugar
7 egg yolks
10 g marzipan
10 g Amaretto
1 shot of bitter almond flavour
Also: ground brown cane sugar, cranberries, fresh mint, a Bunsen burner
 Source of recipe: Christian Jürgens (also for Zentis)