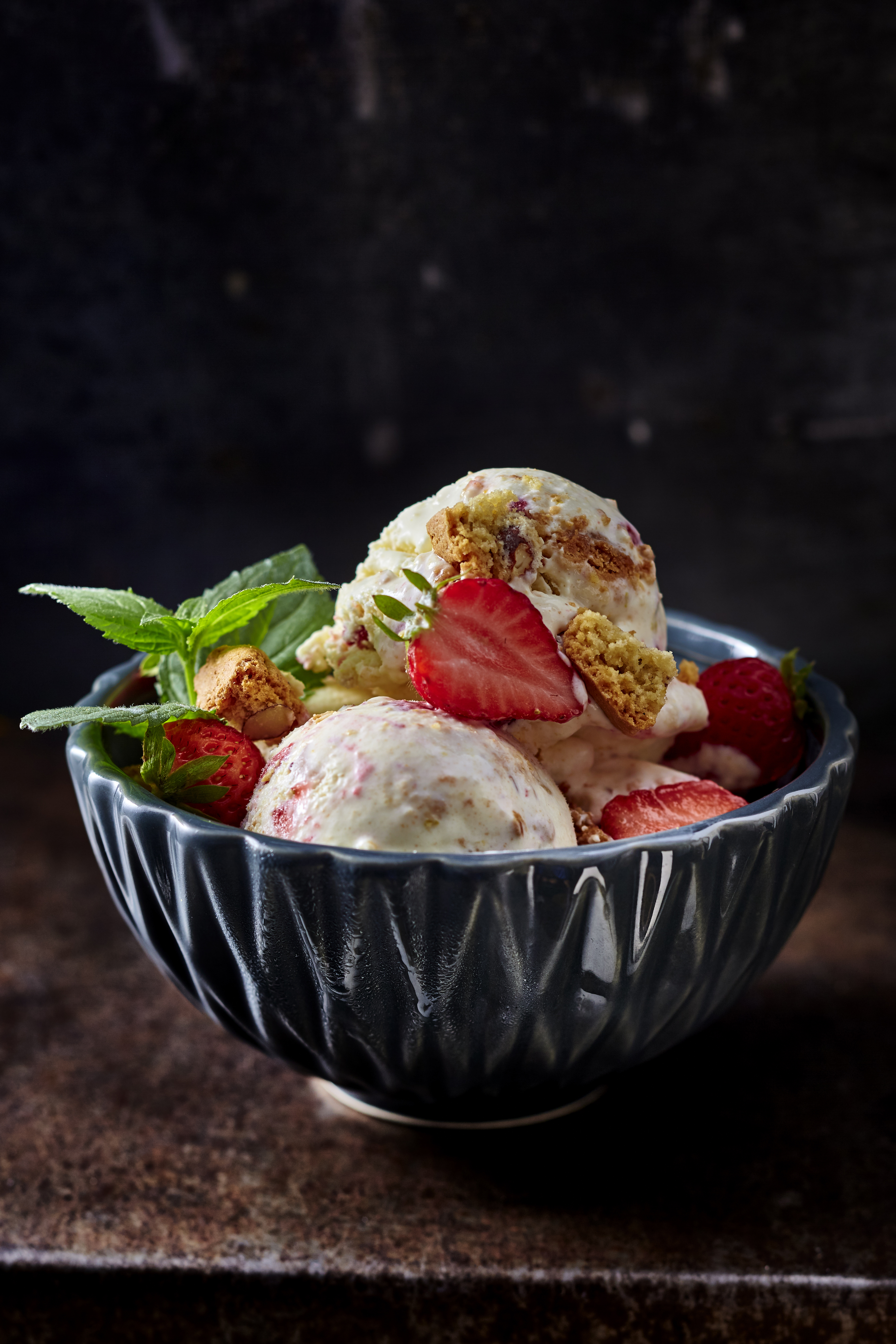 Recipe creation for the Vitamix Professional Series 750.
Preparation: 4 hours; Yields: 835 g
Ingredients
For the syrup:
– Zest and juice from ½ lemon
– Zest and juice from ½ lime
– Zest and juice from ½ orange
For the quark mixture:
– 50 g sugar
– 250 g low-fat curd cheese
For the vanilla milk:
– 100 ml milk
– 1 vanilla pod
– 130 g sugar
– 300 g strawberries, frozen
– 75 g whipped cream
– Orange zest from ¼ orange
– Cantuccini, coarsely crumbled
Preparation
Place the zest and juice from the lemon, lime and half an orange in a saucepan and reduce until a syrup is obtained.
Mix the syrup with 50 g sugar and low-fat curd cheese and freeze in a block.
Scrape the marrow out of the vanilla pod and boil the marrow and the pod with the milk and 130 g sugar in a saucepan. Remove from heat and leave to stand for 30 minutes. When the milk has cooled, remove the vanilla pod.
Cut the frozen strawberries into small cubes. Cut the frozen quark mixture into larger cubes.
Place the curd cubes with the milk in the Vitamix container and close the lid. Mix briefly until a homogeneous mass is obtained. Pour into a cold-resistant container.
Serving: Fold in whipped cream, frozen strawberry cubes, the zest from a quarter of an orange and crumbled cantuccini. Freeze mass for about an hour for perfect consistency.
Text source: Christian Jürgens
Image source: Vitamix