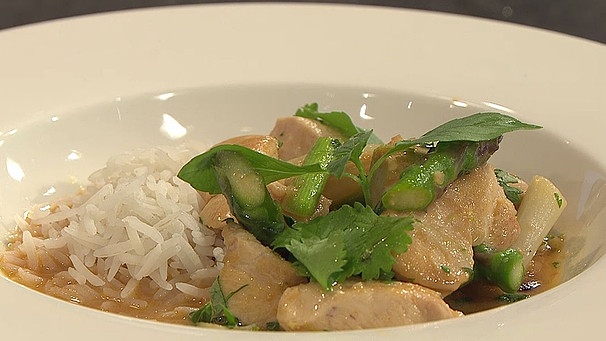 Preparation
Rinse chicken breast with cold water and pat dry. Cut the meat into 2 cm cubes. Clean, wash and dry the spring onions. Cut the sticks into 4 cm long pieces. Cut 2 cm from the bottom of the asparagus and peel the lower third and cut the stalks into 4 cm long pieces.
Grind peanuts finely in a food processor (Vitamix). Peel garlic and ginger and chop finely.
Heat 2 tbsp of sunflower oil in a large pan or wok, sear the chicken from all sides, remove from the pan and set aside.
Ingredients
500 g chicken breast without skin
1 bunch of spring onions
1 bunch of green asparagus
100 g roasted unsalted peanuts
2 cloves of garlic
30 g ginger
4 tbsp sunflower oil
300 g Basmati rice
1 tbsp red Thai curry paste
3 tbsp soy sauce
400 ml chicken stock
Juice of 1 lime
1 handful of Thai basil leaves
¼ coriander bunch
Salt
Freshly ground black pepper
Reduce the temperature, heat the rest of the oil and fry the asparagus pieces on a low heat for about 3 minutes. Add the spring onions and fry for another 2 minutes. Remove the vegetables from the pan and set aside.
Cook the basmati rice.
Meanwhile, add ground peanuts, garlic and ginger without fat to the pan and roast over medium heat until the peanuts turn light brown. Add the curry paste, roast briefly and deglaze with soy sauce. Add chicken stock and lime juice and simmer slowly for about 10 minutes. Return the chicken and vegetables to the pan and cook for 2-3 minutes. Season to taste with salt and pepper.
Serve the chicken in the sauce with basmati rice and sprinkle with chopped Thai basil and coriander.
Tip
Kikok chicken is well suited for this.
Feeding the chicken with non-genetically modified maize gives it its yellow colour. The animals are reared without antibiotics and are subject to regular independent quality control. Incidentally, the name Kikok is a fantasy name consisting of the German "Kikiriki" (English "cock-a-doodle-doo) of a vital chicken and the "Coq" of a fleshy chicken for gourmets.
This recipe was cooked by Christian Jürgens as part of the programme Wir in Bayern on Bavarian television.
Image source: Wir in Bayern.