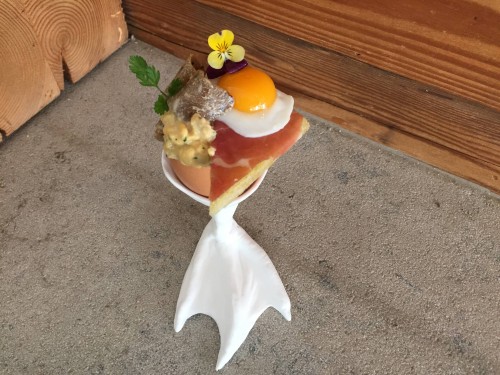 Ingredients
Ingredients for 4 servings
– 4 eggs
– 4 tbsp whipped cream
– Freshly grated nutmeg
– Salt
– Freshly ground white pepper
– 2 slices of white bread, approx. 3 mm thick
– 1-2 tbsp olive oil
– 2 slices of Parma ham, halved, without fat rim
– 1 tsp very small artichoke cubes
– 1 tbsp butter
– 1 tsp fine shallots cubes
– 1 tsp blanched, finely chopped spinach
– 12 g Alba truffle, finely sliced
– 4 quail eggs
– Chervil and flowers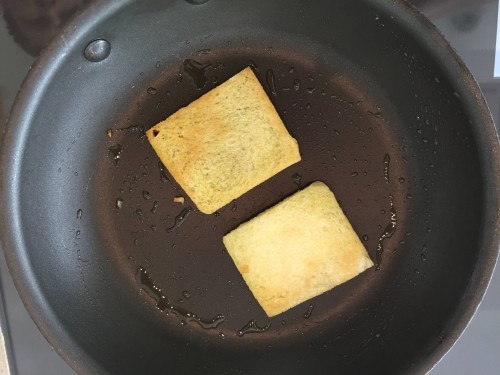 Preparation
– Carefully open the eggs with an egg opener. Whisk two of the four eggs with half the cream and some nutmeg, season with salt and pepper. Wash the shells well and allow to dry.
– Remove the crust from the slices of bread and fry on both sides in a little olive oil until golden brown. Cover with ham and cut diagonally into triangles.
– Fry the artichoke cubes in a little olive oil until glassy and drain in a sieve.
– Melt some butter in a frying pan over a low heat and fry the shallots in it until translucent. Add the artichoke cubes and spinach and season with salt and pepper.
– Add the beaten eggs to the vegetable mixture in the pan. Stir carefully until the eggs have solidified but are not dry. Fold in half of the truffle slices with the other half of the whipped cream. Fill the egg shells with the scrambled eggs and place in cups. Place the remaining truffle slices on top.
– Heat some butter in a coated frying pan, fry the quail eggs in it and place them on the bread triangles. Garnish with chervil and flowers.
Text source: Christian Jürgens
Image source: Christian Jürgens
Pictures from top to bottom
Cover picture: Scrambled eggs with Alba truffle and "Strammer Max" / source Christian Jürgens
Video: Scrambled eggs with Alba truffle and "Strammer Max" / Source Christian Jürgens
Preparation (2 pictures): Scrambled eggs with Alba truffle and "Strammer Max" / Source Christian Jürgens
Finished dish: Scrambled eggs with Alba truffle and "Strammer Max" / Source Christian Jürgens