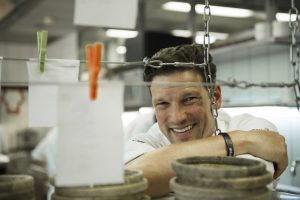 One of the biggest problems for young people in Kenya is the lack of prospects. Especially orphans are often not able to finance a necessary education. But the two young men Daniel Nuenga and George Githinji can now look to the future with more positive eyes. They will start training as cooks in September. In Nairobi. This is made possible by a charity cooking event that took place on May 8 in the Plana Küchenland in Wiesbaden. Nearly 50 guests gladly accepted the invitation of the organizer Anke Beutner with great expectations – because no less than a 5-course menu by the 3-star chef Christian Jürgens was waiting for them. An excellent wine accompaniment was provided by the Kaufmann – Hans Lang winery and the Schloss Sommerhausen winery. Thanks to the sponsors
Gaggenau
, 
Plana Küchenland
 and 
Weingut Kaufmann – Hans Lang
 and 
Weingut Schloss Sommerhausen
100% of the proceeds of the evening could be donated to Cargo Human Care e.V. The initiator of the evening, Anke Beutner, has been supporting the aid organisation for many years. Her idea was also to organize a Chef's Table for the good cause and to get involved in financing the cooking education of Daniel Nuenga and George Githinji. The premium kitchen appliance manufacturer Gaggenau provided active support. Christian Jürgens was also immediately enthusiastic when the company Gaggenau – now a long-standing partner of the professional chef – approached him with the request: "If I can use my skills to ensure that people have a good time at such a charity event and we can help the next generation of chefs – no matter where in the world – then of course I am fully committed to it." To find out more about the work of the aid organisation Cargo Human Care e.V., please visit the
Cargo Human Care
 website.